RCL0200001
LED Bullseye coloured lens 95mm LED - 3 function in one unit - stop/tail and indicator.
NOTE. All LED Flashers/Indicators retro fitted to vehicles will need either a special Pulse Generator 01-141 or Two Ballast Resistors DSL MDL 12 – one per side of the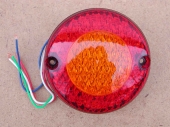 With shipment Standard for £4.00
Base price for variant:
£65.63
Sales price without tax:
£65.63
Price / COM_VIRTUEMART_UNIT_SYMBOL_:
Description
LED Bullseye coloured lens 95mm LED - 3 function in one unit - stop/tail and indicator.
NOTE. All LED Flashers/Indicators retro fitted to vehicles will need either a special Pulse Generator 01-141 or Two Ballast Resistors DSL MDL 12 – one per side of the vehicle.